Background
The Magellanic penguin project was started in 1982 as a result of a Japanese company's intention to harvest Magellanic penguins and turn them into golf gloves, meat and oil. The Wildlife Conservation Society and the Province of Chubut through the office of tourism entered into a joint agreement to protect the largest Magellanic penguin colony in the world and study the diversity of wildlife at Punta Tombo. The project provides recommendations to the Province to protect penguins and educate tourists on conservation problems and to improve the visitor experience of the more than 125,000 people that visit each year. Based at the provincial reserve at Punta Tombo, Argentina a small group of researchers under the direction of Dr. Dee Boersma, Professor of Biology at the University of Washington, follow individual penguins, monitor the colony and develop the data needed to plan effective conservation efforts, as well as try to understand the importance of penguins as indicators of the health of the environment.
Human Aspects | Threats to Penguins | Important Next Steps
Research at Punta Tombo
Every year between September and March, the Penguin Project research team follows hundreds of individual penguins to learn where they go, what they eat, whether they raise chicks and how they survive to the next breeding season.  These data are key to understanding how climate variation impacts penguins and how to mitigate conflicts between humans and wildlife. Students educated at Punta Tombo are now leaders in conservation in the United States and Argentina.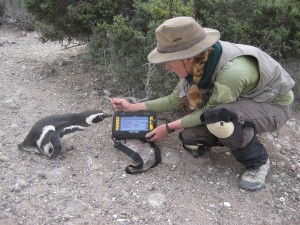 For the last three decades Dr. Boersma and her volunteers have identified penguins at Punta Tombo with name-tags in the form of flipper bands. Some penguins get a small metal band with a number on it, so as researchers visit nests and walk the colony and beaches recording data, they can tell who's who. The project has banded over 60,000 birds since 1983.
Penguins are at the breeding colony during the southern-hemisphere spring and summer, from September to March, when researchers visit study nests and determine how the penguin couple does raising their chicks. A few penguins get a tracking tag (satellite transmitter or GPS tag) so that we can see where birds are going in search of food. By studying penguins while they are at sea we are able to learn where they go, where conflicts with humans might occur, and why some birds are successful and others unsuccessful at rearing chicks.