Support penguin research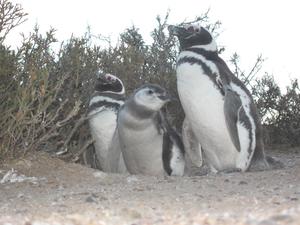 Donate Today!
Your generous donations aid our long-term research on penguins in a variety of ways:
Checking penguin nests
Following the lives of individual penguins
Sending a student to Punta Tombo
Entering data and maintaining research database
Writing and publishing scientific papers
Searching for banded penguins not seen since they were chicks or juveniles, like

Marcy

.
3 Ways to Donate to Penguin Sentinels
1.) You may make donations through the Wildlife Conservation Fund; please direct funds to "The Penguin Sentinels Project". The project is a non-profit, and donations are tax deductible.
2.) To donate by check, make it payable to "The Penguin Sentinels Project" and mail it to:
The Penguin Sentinels Project
24 Kincaid Hall, Box 351800
University of Washington
Seattle, WA 98195
3.) We accept online donations through the University of Washington Foundation. 100% of your donation goes straight to penguin research. Please use the form below to donate online.
You can also help us track penguins at sea, allowing us to compare individuals between years and to see differences in how oceanographic conditions affect individuals.
The Importance of Donating
Because of your generous donations, we have been able to follow penguins for over 30 years. Having long-term information about the lives of penguins enables us to help them as illustrated in the examples below. Penguin lives are similar to our own: they mate, raise offspring, and have individual personalities. Just like us, they need safe places to raise their families, safe avenues of travel, and access to healthy food throughout the year.
Penguin Population in Decline
Punta Tombo, located in Chubut Province, Argentina, is the largest breeding colony of Magellanic penguin in the world. Since 1987 the penguin population there has declined by 24%.  For over two decades, the Penguin Project has painstakingly collected detailed data not simply to document the penguin population decline (although that is critical), but to develop science-based solutions to ensure the peaceful coexistence between penguins and humans.
Fishing. The project is collecting data on the opening and closing of fisheries to determine how it affects the growth rate of chicks.  Based on knowledge of penguin breeding cycles provided by the Project, the Chubut Province delayed fishing near the colony by an extra month to provide enough time for penguins to raise their young.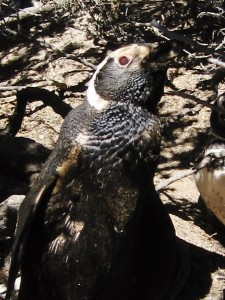 Oil Dumping.  In the early 1980s sometimes 60-80% of penguins found dead on the beaches in Chubut Province were covered in petroleum from oil tankers illegally dumping ballast water.  We documented the extent and severity of the problem, and as a result, the Province moved shipping lanes farther off shore.  Since 2001 fewer than five percent of penguins found dead on the beach are covered in oil.
Tourism.  Close encounters with increasing numbers of tourists pose a serious risk to penguins.  Closing the road to vehicles and building trails for tourists has helped restrict and reduce visitor impacts at Punta Tombo.  We also helped local stakeholders and the Global Penguin Society get the Punta Tombo Management Plan adopted by the Province of Chubut.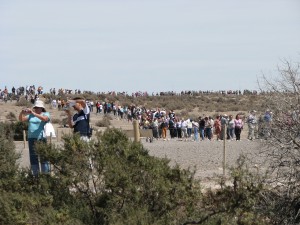 Climate. As a result of climate change and ocean variability, penguins now have to travel further to find prey.  Swimming further means their mates left at the nest must fast longer increasing the chances that the mates will abandon the nests and chicks will die of starvation.
Climate change increases the size and frequency of rainstorms. Big rainstorms kill downy chicks because down loses its insulating ability when it gets wet. We documented increasing storms at Punta Tombo. Using 28 years of data on chick deaths, we developed a model to show how many chicks bigger rainstorms will kill.
Educating the Next Generation.
Hundreds of volunteers and students have been part of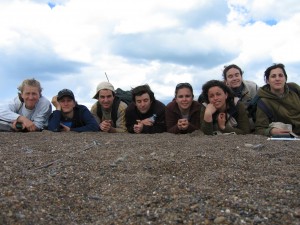 the massive data collection at Punta Tombo.  Many now hold influential positions in both Argentina and the U.S.