Audio from the Penguin Sentinels
Great Encounters, by Dee Boersma
Dr. Boersma is interviewed by Kim Hill on Radio New Zealand National about her experiences working with penguins.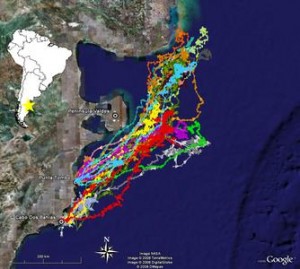 Magellanic Penguins Swim Further for Food (TheScienceShow_March 28, 2009)
Dr. Boersma is interviewed by Robyn Williams on TheScienceShow, a New Zealand radio show. She explains how Magellanic penguins are swimming further to get food now than in the past and the effect this has on breeding adults. Click here for the transcript.
EarthSky interviews Dee Boersma on penguins as ocean sentinels (Oct 5, 2009)
Penguin Soundbites
Penguins in the early morning in Punta Tombo
Penguin in nest
Penguin duet
Penguin (Band 52677)
Penguin fight
Penguin bray